Welcome to Verbier
Part of the SnowChef crew had arrived in Verbier, late afternoon on a splendid sun-soaked Friday. Our contact in the town was a veteran of the Verbier hospitality scene, a guy by the name of Laurent Royer, who we were told went by the nickname 'Late', however it was pronounced 'Latte', as in a fine tasting espresso and steamed milk, finished off with a love-heart, leaf or maybe even a dragon, yeah pretty sure you catch the drift.
The news we had on Late was that he had run many Verbier institutions, such as Club Buggery, The Casbah, Twin Peaks, The More of Everything Foundation, Nomad Sushi Lounge and Hotel Farinet, featuring the most insane Apres Ski party in town. He had also been the drummer in the iconic band, The Dicktators, who had once ruled the live band scene in Verbier with an ice storm of antics and shenanigans.
We were keen to meet this purveyor of all things splendid, sublime and marvellous. We had heard that Late had recently shifted his guise to that of restaurateur and was putting his imagination and creative juices into Chez Dany, a delightful mountain restaurant that sat on a plateau in the small hamlet of Clambin, just above Verbier village.
As we sat basking in the sun taking in the visual splendour of Verbier, we received the call from our contact Late, he was on his way down from Chez Dany. Some 15 minutes later we heard the most salubrious, sweet sounds of 'The Enchanted Sea' by Martin Denny reverberating through Verbier's streets and in that moment of listening pleasure, swinging around the corner in a vivid orange 'open air' Citroen Mehari came Late with a grin from ear to ear.
Late was looking the goods, styled in the most plush, white woollen jacket and a bowler hat. He screeched the jeep to a halt, leaped out and embraced us in a hug. Immediately, it was like we had been friends for many years, almost like we knew each other's history of years of good times in snow resorts.
'Jump in lads, you are in for a treat' shouted Late and into the vivid orange Citroen Mehari we clambered. We scratched around for the seat belts in this foreign vehicle, clipped in and were ready to roll. Late drove off and shortly we were on a ridiculously skinny gravel road winding up the mountain towards Chez Dany.
The journey was full of corners so tight they required a 3 point turns, yet this was not a deterrent, however clearly part of the voyage. The views were so spectacular, one really didn't give much consideration to the extremely steep drop offs that were on each section of road.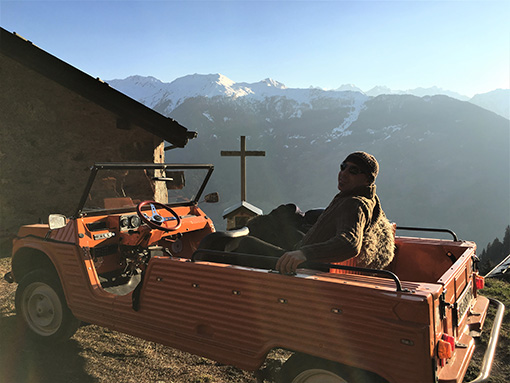 The music still blaring and Late's mountain life stories flowing, we eventually ground to a halt at an old hunting cabin. The sun was setting across the region, the most glorious view of the Val de Bagnes, that was complemented by the hunting cabin and timber cross on this rocky outcrop. This location was absolutely mind blowing beautiful and we gasped as we realised this was one of those special visual moments you get in life.
The moment became even better when Late searched around in his bag and pulled out a bottle of wine, Petite Arvine and three glasses. Late soon explained that Petite Arvine is local to the Valais province of
Switzerland. A white wine grape with a long regional history and with its origins in the valley, having been grown since 1602.
As we sipped on the Petite Arvine, Late continued to educate us, further explaining that the wine has a reputation as a high-class grape variety, and is seen as the best white wine grape of the Valais. Its wines are rich in extract and are found as dry, medium-dry and sweet wines. This textured wine contains a generous amount of extract from its thick-skinned berries.
It was our welcome to Verbier drink which came with the valley vista to die for. We toasted to good times, mountain life and the week ahead in Verbier and potentially another resort and then promptly polished off the bottle.
Back into the Citroen Mehari we scurried and Late drove up the last ascent towards Chez Dany, 'get your camera's ready boys' Late called and as we came up over the ridge, once again our eyes were bedazzled as we entertained the Chez Dany building sitting on a plateau overlooking the entire mountain range opposite Verbier. From left to right we were starring at Grand Combin, Petit Combin and Mont Rogneux and on the left as a back drop, none other than the Mont Blanc range of Chamonix in France.
There were many punters enjoying the Chez Dany facilities of deck chairs, furs draped over lounge chairs, swings & the balconies. We were soon engaged in discussions about mountain life with several strangers, both locals and visitors.
Late's staff soon hooked us with beers and the local favourite, a warm twist of Vin Chaud, which is the special welcome drink that greets patrons at Chez Dany.
Soon there was some entertainment on outdoors in the way of Carl and Tasmin from London's 'The It Girls' belting out old favourites while punters chilled out to the tunes and the views as the sun made its way down over the horizon.
With the chill in the air, all comers moved indoors at this point and were soon being pampered by the Chez Dany staff with delicious cheese fondue & Raclette, along with divine wines. 'The It Girls' were soon entertaining the crowd again with some old school hits and getting people up to join in with the singing.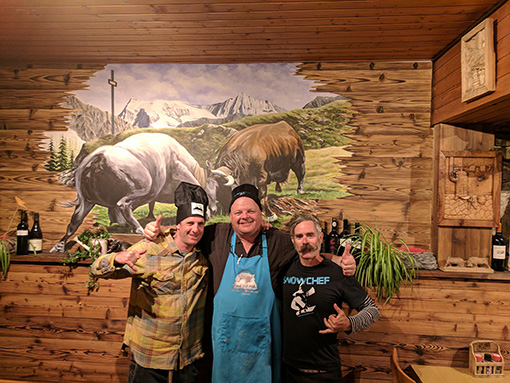 We soon saw individuals enjoying the Chez Dany Snuff machine, that being a wooden catapult that one sits their head in to have snuff shot up their nose. Once complete, the individual kindly had their nose cleaned with a feather by the Chez Dany staff. This little hit had them riled and ready to jump into the fun and games.
By this stage, 'The It Girls' had upped the ante and were swinging out 90's dance tracks and people were dancing on tables, the bar and were getting their opportunity to sing the odd word or verse. We happily indulged in this activity and were soon embraced arm in arm belting out songs.
Memories of the times we had spent in snow resorts came flooding back, the total good vibes that are always around, the stories of food local to the region, of times on or off piste, the parties, the Apres Ski, the periods as a snow bum and where things are now and what's going down in this current day. Not much seemed to have changed, it was all still good times.
We ducked into the Chez Dany Kitchen to see how the Chef and his staff were handling the food situation and to see if we could garnish any stories.
We met with Chef Junior, who provided us a little insight into his background. Somewhat a geographical accident, he was born in West Africa to American parents who engaged in aid work.
At the age of 16 he had left high school and around this time his parents had divorced and moved back to separate sides of the USA. In somewhat of a dilemma, Junior decided to hightail it to New Zealand for a year. Not long after he moved to Verbier, where he soon took up the role of a Snowboard Instructor to make ends meet, however an injury soon saw him reconsidering his direction in life.
During his time in Verbier, he had met several Chefs, who soon became friends. What he came to realise was the great lifestyle and reasonable earning capacity, a Chef has in a snow resort. So he shipped himself off to the UK for two years of schooling and it wasn't long before he was back in Verbier making a name for himself as a Chef in the village he had come to call home. His latest instalment was the opportunity provided to him by restaurateur Laurent Royer (Late) at Chez Dany.
As with any night in a snow resort, our activities weren't quite done by the time the feed and fun was complete at Chez Dany. We ambled down the mountain track, usually covered in snow, however the season had delivered the least amount of snow in many years, so instead of being in a Oversnow Cat, we were on foot. This was fine, as it provided opportunity to take in the fresh, crisp and cold air that mountain resorts deal up in spades.
We discussed some of the options in town to continue our descent into the early hours.
As we came into the village, Late directed us into The Loft Bar, a venue run by an expat Swede that delivers up Bands and DJ's to locals and visitors in a super cosy environment. The vibe inside was contagious, the band was playing hard and engaging the punters, who were kindly obliging with fist pumps, salutes and dancing.
We had several conversations with various people and stayed through to closing time at The Loft and thoughts of resting the head on a pillow were soon squashed by Late, as he guided us toward L'Etoile Rouge for the last hoorah. (L'Etoile Rouge translates to The Red Star)
The sounds emanating from L'Etoile Rouge were of the Doof Doof nature. Two charming doormen greet you upon arrival, before heading down into the bowels of Verbier. Swinging through large double doors we were confronted by pumping tunes and a decent sized crowd getting their jive on.
At the bar we met the owner Raphael, an ex Parisian, who with his wife Natasha, provided Verbier with sophisticated venues featuring stimulating artistic programmes with resident and international DJs. Natasha was quick to invite SnowChef to their Apres Ski venue, Le Rouge. She described the most beautiful mountainous outdoor entertaining scene, well we just knew SnowChef would attend the venue at some stage during the week.
Raphael promptly organised for his staff to pour our crew some shots of schnapps to warm our insides. Thoughts of resting the head on the pillow were now completely gone.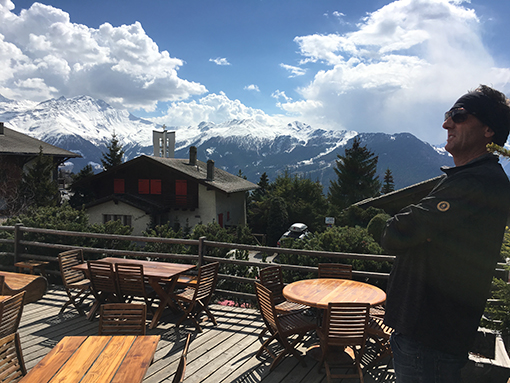 The friendly vibe was evident as we continued meet and greet several locals who were happy to share stories of their food and lifestyle journey in Verbier. We caught up again with the 'It Girls', who besides being glamorous beauties, were also such down to earth individuals.
When the club finally shut, Late herded us down to the institutional late night or early morning bakery, which from the outside, was purely an industrial wall with a thin row of windows, where one would tap on a thin slithered window, which would slide sideways to reveal a baker, as well as release the sweet smell of breads and pastries.
Late spoke in French to the Baker, ordering some Pane de Chocolat and bread. The conversation with the Baker endured a little longer, so we asked Late what was discussed. Late explained that the Baker was complaining about the group of young drunken fools that had congregated around the hole in the wall. As much as this ship of fools was the Bakers regular business, he also didn't care too much for their general tomfoolery.
We had quick chat to the young fools and used our years of experience in late night/early morning chance encounters to let them know that they were pushing the envelope a little too far with the Baker and they wouldn't be getting fed if they pushed it much further. They seemed to listen to reason, or maybe their stomachs did and had soon pulled their heads in so they could quell the boozy hunger with Pane du Chocolat.
It had got to the point where the first night in the wonderful Verbier had reached a pinnacle.
We had touched the surface yet been in Verbier's belly, we had seen the vista's, been privy to a glorious sunset, heard the voices of angels, tasted the cheese of Fondue, the meats of Raclette, wet our feet in some slushy snow, sang songs with gusto, danced in bars and clubs, had many food and snow obsessed conversations.
We thought what a wonderful first night, this is what snow resorts dish up time and time again. It seems a snow resort has no expectations of you, it doesn't care who you are, it accepts you as you are and takes you inside its labyrinth, keeps you warm, gives you a fuzzy feeling, gives you a life changing experience and always knows you'll be addicted and back for more.