The Lure of Shasta (Not the soft drink or the lake…But Rather the Mountain!)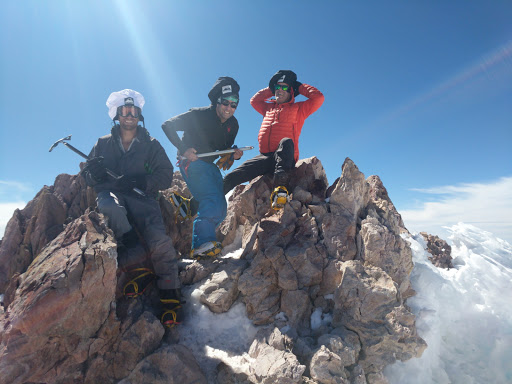 After a long winter of fluffy arching turns made easy by riding chairlifts in Tahoe, it was time to go EARN some turns and pay homage to the Mother of all California peaks…Mt. Shasta!
Although not the highest peak in California, she is the most badass and can dish out the most rewarding of experiences, as well as the most daunting. Taking on Shasta is synonymous to spinning the roulette wheel. The odds are stacked against you and the chances of hitting your preferred number are fairly rare (that being, the equivalent of summiting the peak). The house holds a strong advantage and more times than not turns a climber about-face, with a march back towards base camp or to the parking lot down at Bunny Flats for a slice of humble pie!
This equates to a dash to the ATM to withdraw another Benjamin in hopes of controlling the thermostat! Weather has a different expression around Shasta and even though one may experience a balmy 80-degree Spring Day in Shasta City, the tides can quickly change at altitude, as winds, clouds and moisture can quickly flip the script and turn a seemly "Summer Stroll in the Park" into a nightmarish turbulent winter flurry maelstrom.
But hell, playing roulette is fun and hitting one's number fuels the stoke and ignites a high that becomes contagious and brings the player back each season to try his or her luck at summiting and bagging a glorious descent via one's departure. Our descent being the choice of the Knuckle Dragging solo device…not a Mono…but rather a snowboard!
OK…now to the Snow-Chef component of this piece that ties in the Summit attempt of Mount Shasta, so some school boy lesson here, we all know food=fuel and much is needed to replenish the caloric output of seven thousand feet of ascent in a short amount of time. Yes, one needs to throw many items into their pack when taking into consideration the tools, equipment, clothing and survival gear necessary to make it to the top. The checklist contains some obvious ones for an overnight ascent, warm clothing, tent, sleeping bag, camping stove, crampons, water & food. Water is a given and one of the most crucial components necessary for one's body to make it up to 14,000 feet. Food on the other hand can take on several choices and one of the most to consider is weight and convenience.
The majority of mountaineer's sacrifice taste, quality and bulkiness for ease of calorie consumption by packing freeze dried meals, nuts, granola bars and dried fruit, but not SNOWCHEF!
Nope SnowChef realizes that although the Summit is the goal, the journey should be enjoyed and rewarded along the route, thus The Brothers Hilde (Chef Chriffer & Busboy Mark)…my compatriots for this ascent teamed up to shuttle 2 pounds of Pacific Northwest King Salmon up to Lake Helen basecamp at 10,000 feet for a very scrumptious feast on the Omega Three producing fish!
While most weary hikers were content to make camp, and stoke up their stoves to a boil, in order to heat their meagre MRI meals, the SnowChefs went to work on prepping the King for a grilling that intrigued many a nearby camper that caught the scent of the freshly prepared meal!
Many of the other campers began to wonder if they were not hallucinating from altitude. Surely, they were 
imagining that a Fish Monger had reeled in a remarkable catch from the frozen tundra and parlayed it into a three-course meal at 10,000 feet above sea level? What were three characters donning Chef Hats and feasting on sashimi grade salmon doing fucking with their senses and making them wish they had re-thought their food strategy for the night? Aren't the rules revolving around snow camping written that items should come from a box or package? Not the case for the On-Snow Chefs! The fish was packed on snow and humped up thousands of steps via the Busboy's pack, thus earning his nickname and heroism rights in the name of a feast fit for a King! Kudos Busboy!
Prior to breaking trail and beginning the upward trek of putting one foot in front of the other for hours on end, towards the glorious peak of Mount Shasta, our crew decided that it would be a good idea and in our best interests to fuel up via a hardy, scrumptious and delicious breakfast. Thus, the task of finding the locals go-to breaky joint became our morning mission and one that Yelp could not discern, as this Mountain town seemed to have its own password in order to get the directions to 'the spot'.
First, we were lured into a coffee shop that was claimed to be the fuelling zone as directed by a local, but we should have taken heed to his quick wit to point us towards a decoy. Not to dis the coffee shop, but by no means would this joint satisfy the SnowChef's appetite's and properly provide a food base to start our journey. So, in a reverse strategic manoeuvre, Chef Chriffer inquisitively conned the male barista into revealing his favorite breakfast eatery by asking him "where would you eat breakfast on your day off to treat yourself"? The barista had no hesitation whatsoever, and quickly blurted out "Lily's, hands down". His accompanying baristas of the female persuasion seemly shot him a look that said, "you dumbass, you just got punked into revealing the locals spot, by some tourists"!
So being of a city mentality we set our GPS navigation to Lily's, even though it's just a one-horse town and a stone's throw away, one couldn't help but stumble upon it after 2 or 3 laps on the main street. Half way there I convince the driver to ditch the GPS and to instead tune into mother nature for reassurance. Sure enough a block later she delivers us to the doorstep of Lily's and we are greeted by a quaint and cozy looking building that speaks simplicity, yet has intrigue, as it is surrounded by a white picket fence and could easily be mistaken for a private residence or a B&B.
The Restaurant sports a sign announcing breakfast, lunch and dinner giving it away and we are reassured we've arrived at the right morning fuelling station! Upon walking into the courtyard, we were a bit perplexed as all the outdoor tables had reserved placards on them and we were not sure if this was a plough to detract tourists and give the employees a window of opportunity to size us up to see if we were worthy of the Lily hospitality or not? At this juncture, I surmised that we needed to play a card or two out of the old Tom-Foolery deck and asked for the Chef by name as I just happened to get a glimpse of the nametag he was sporting on a Chef's garment in route to the garden. I touted "By the way is Ron in the kitchen today" to which the reply was "as a matter of fact he is, shall I send him out"? Waylay…the doors open, and the reservation placards quickly disappear and we are given the pick of the litter from the outdoor seating arena sporting umbrellas and magical vistas of Mount Shasta …seemingly just up the street!
Our waitress is all smiles as she is now assuming we are not tourists at all, but rather longtime local's that have not visited in many a moon and we become VIP's in seemingly no time at all! Menus are doled out as coffee and water are being poured. Chef Chriffer is quick to pat down the waitress verbally for clues of local
bites to satisfy one that is about to take a long hike into the Trinity wilderness in search of a mountain peak that will provide an alluring ascent and descent. He pegs her down to the chicken fried steak order and requests hash browns in replacement of the herb roasted potatoes and she states that there might be enough spare russets to produce some hash. I quickly gravitate to the wild mushroom benedict, as I feel that fungus is among-us and might aid in my sojourn up the hill! Busboy goes for the smoked salmon benedict as it sets the theme for the SnowChef weekend and gives him ample Omegas for his uphill push as the food Sherpa.
Having gotten wind that hash browns exist as a replacement for the roasted potatoes, myself and busboy also request them, but Chef Chriffer is quick to lay claim to pole position on the hash browns and that I am second in line and busboy a distant third for servings of the potato beat down.
The team quickly assess that the barista was straight up with his suggestion and we anticipate a hardy meal that will not only fill our bellies, but also heighten our taste buds, thrill our appetites and set the tone for our trek upwards. This is all assumed from the vibe and hospitality, as well as the quality of local water in our glasses.
Prior to our meal arrival I am able to flag down Chef Ron, whom also turns out to be the owner and founder of Lily's restaurant dating back 22 years. He gladly indulges us as we introduce the SnowChef concept and he claims to be one of the mainstay Chefs of the region during all seasons including the long winters that often set in. It is evident that Ron is very proud of his establishment and boasts of his no cell phone rule so that patrons can indulge in the home-made delicacies that derive from the adjacent kitchen without interruption or distractions! Chef Chriffer quickly surrenders his talk piece but convinces the waitress to throw a charge on it as it has been drained, she adheres with a smile. It turns out that Ron is quite a character and a storyteller to boot; he gave us the low down on the naming of Lily's, turns out it is a flower that only blossoms on Mount Shasta and is a special strand that is nurtured by the volcanic soil.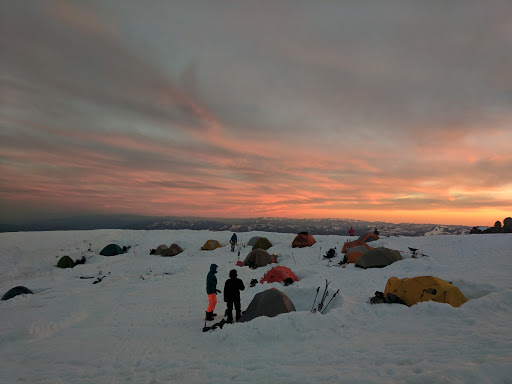 Oh yeah, I digress, food arrives and all talk ceases as eyes gaze at the feast laid before us adorned on full plates. Stoke afloat, as the trio all scored a hefty batch of hash browns accompanied by our breakfast entrée. Chef Chriffer delights at the chicken fried steak laid before him and digs in with fork and knife in unison, three bites later he comes up for air and claims victory on his order with a wide grin of approval. This signals me to have a go at my mushy roomie benedict and I dig in and conclude that the hollandaise sauce is supreme in the sense that it is not overbearing, yet delivers a unique flavor that accompanies the wild mushrooms and yokes. Talk ceases as we finally execute our task at hand; to fuel up in manner that fills the tank and ignites the taste buds to fruition.
Chef Ron makes another appearance and accolades are thrown his way, ensuing into another wordy tangent of cooking tales and origins. Turns out that Ron hails from the Bay Area and did his time at the Mount Claire Country Club before hanging up his golf clubs in exchange for ski's in the town of Shasta City.
See Chef Ron's bio for more information on the SnowChef Maestro and to be exposed to the fare offered up at Lilly's for breakfast , lunch and dinner and to learn more about his many talents in and out of the kitchen!